Covid-19: Our 2 stores are open to the public. Online store 24/7: Shipping and curbside pick-up available
Login
Log in if you have an account
Register
By creating an account with our store, you will be able to move through the checkout process faster, store multiple addresses, view and track your orders in your account, and more.
Create an account
Les meilleures poêles anti-adhésives ont un nom : Gastrolux
02 Mar 2020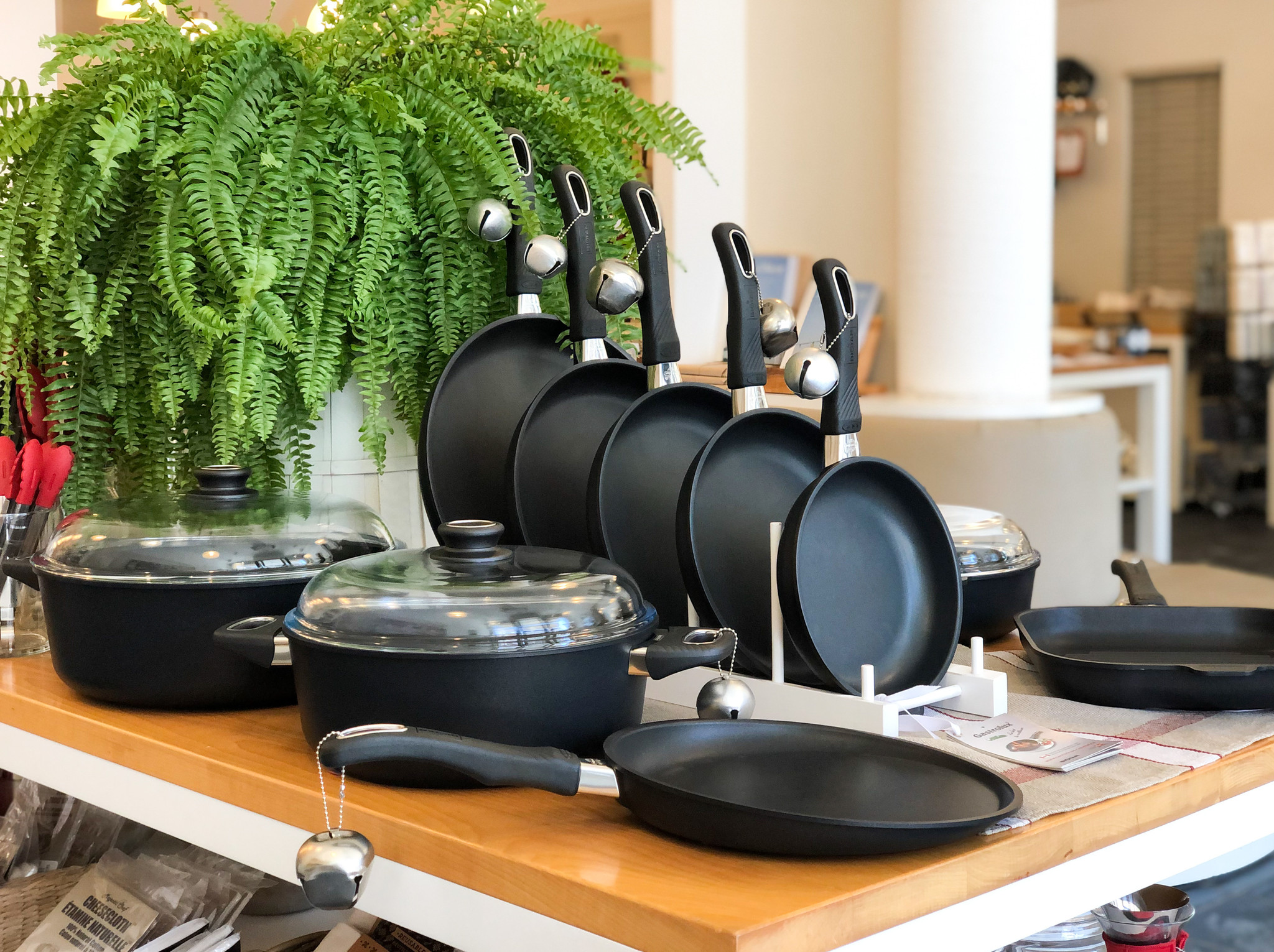 «

L'outil de cuisson où la performance est la plus critique est un poêlon.

»
UN TOUR D'HORIZON DES POÊLES ANTI-ADHÉSIVES
Dans le choix d'un poêlon, sa capacité de rétention de la chaleur et la qualité de sa surface seront 2 aspects importants à considérer. À ce chapitre, les poêles anti-adhésives ont eu mauvaise presse dans les dernières décénnies.
1. L'ère du Teflon
C'est DuPont, la compagnie américaine, qui avait commercialisé le Teflon(R). L'anti-adhésif, qui comprenait un composé appelé PFOA (acide perfluorooctanoïque), avait été classé comme cancérigène probable par l'Organisation Mondiale de la Santé (OMS). Le Teflon a donc ensuite virtuellement cessé d'être utilisé dans les surfaces de poêles anti-adhésives.
2. L'échec des poêlons en céramique
Pour revenir à la charge, l'industrie a tenté un retour avec des poêlons avec une surface poreuse : les poêles en céramique. Leur performance quasi-exceptionnelle déclinait rapidement avec les usages pour finalement devenir des poêles adhésives, littéralement.
3. Anti-adhésif sans PFOA
Les poêlons sont maintenant conçus sans PFOA. Toutefois, selon nous, la meilleure garantie concernant la construction de l'objet tout comme sa composition demeure le pays de fabrication. Dans l'Union Européenne prévaut généralement le principe de précaution, ce qui signifie que si un doute est présent quant à l'innocuité d'une composante (ici l'antiadhésif), il sera écarté.
C'est donc ce qui a motivé notre choix de poêlons anti-adhésifs faits en Europe :
construction durable
anti-adhésif dont la composition est mieux contrôlée et multi-couches
écran de protection en dernière couche (composition variable selon la compagnie)
Gastrolux
La marque :
Gastrolux est une marque danoise qui existe depuis presque 50 ans. Elle est considérée comme une des meilleures, voire la meilleure, marque de poêlons anti-adhésifs sur le marché.
Pourquoi elles sont les meilleures :
Le squelette de la poêle est en fonte d'aluminium de 8mm d'épaisseur et moulé en 1 seul bloc. Cette construction assure des performances exceptionnelles.
revêtement antiadhésif (BIOTAN) garanti sans PFOA et PFOS

manches moulés dans la poêle : sans vis ni rivets; peuvent aller au four jusqu'à 260°C (500°F)
Leur durabilité :
La durabilité d'un poêlon anti-adhésif standard est de 2 ans. Nos autres modèles en boutique garantissent entre 5 et 7 ans.
Les produits Gastrolux ont une durée de vie moyenne prévue entre 15 et 20 ans, selon l'intensité de l'usage. 
En plus d'utiliser des matières premières recyclables, la marque applique les normes environnementales Européennes les plus strictes en vigueur.
Découvrez les produits Gastrolux lors de notre événement
Troquez votre poêlon
ce samedi 7 et 8 mars (en boutique seulement).
Obtenez 20 % de rabais à l'achat d'un produit Gastrolux lorsque vous apportez un poêlon usagé en bon état.
Nous remettrons les articles usagés à l'organisme Le Chaînon
Leave a comment